Many people have seen this video, and was just reminded of it today as I spoke on the phone with a dear friend.  We were discussing all the music talent shows, like American Idol, the Voice, and America's got talent.  I have to admit that the only season of American Idol I have ever watched is this current one, and I am now hooked.  And now I am also into the current season of The Voice, which has another whole bunch of talent just waiting to share their voice.
For me, it's about watching people doing what they are born to do.  Living in their authenticity, and being in total alignment with who they are.
When you watch, and you get goose bumps on your arms, or you get a tear in your eye – that's a phenomenon called resonance.  Something in the vibration of the music resonates with something in your soul.
Even more so than the music, watching these talented people is so inspiring to me.  The power and emotion that comes from them belting out a tune, is awe inspiring.
That said, here's the video I sent my friend today, and when I sent it to him, I watched it again.  After wiping tears away again, I felt compelled to write this post, as there were some incredible conscious parenting lessons in this.

For whatever reason, this young man felt as though he had to hide this talent, even from his parents.  While it made the performance even more dramatic for television, it made me feel sad.  Sad that this boy was afraid to be fully open with who he is, at his core.  Even though his external image says otherwise, inside, he's yearning for acceptance and connection.
With my conscious parenting hat on, I can't help but think of how many times he must have felt he was all alone.  In my "Cultivating Conscious Children" program, one of the main principles is making sure that as a parent, YOU are the one your child turns to for support when they need it.  YOU are their rock, their soft place to fall.  Even into the teen years, children have strong attachment needs, which ideally are still to the parent, but more often than not, they are fulfilled by their peers.
Obviously I don't know this family, and am only catching a glimpse of them on this short clip – I just can't help but put on my conscious parenting "hat" when I see this story.
This man is very much an example of contradictions – his outward appearance could be considered somewhat harsh, yet his voice is soft and sweet.  He was afraid to share this talent with even his family, yet he had the courage to come onto a television show to reveal his voice, and be so publicly vulnerable, when he couldn't even do that at home.
Might this young man have shared this talent sooner, in a different arena, had his parents parented him differently?  Perhaps.  Sometimes, though, our soul needs to have a certain experience, in a certain way, at the right time, to learn and expand in consciousness.
The way this story unfolded was exactly as it was supposed to be, in perfect timing for all those involved.  So parents, we can do the best we can, and parent the way that maximizes the chances our children will feel safe, but sometimes, just sometimes, there are greater forces at play.
And we will never really know, will we?  And that needs to be OK.
Have you ever felt as though you had to hide a part of you from the outside world? What helped you decide to share it openly?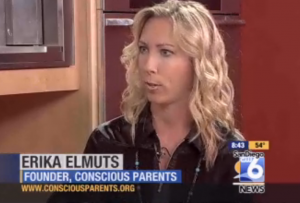 We want to support our children, but at the end of the day, is this really the best approach?
Parenting consciously means looking beyond the immediate, and really think about what their parenting is actually, in the long run, teaching their children.
Many parenting practices, are focused on changing our child's behavior, where as the conscious parenting approach is to understand the underlying motivation for the behavior, and then addressing that.
This is a great example of thinking we are doing something to help our child, which in reality is doing the opposite.
How is this hurting them?
I'd ask this father – Would you rather have your child stay off Facebook because you've offered up $200?  Or would you rather have your child stay off of Facebook because of their own choice?
On top of that, research shows the practice of incentives/rewards/bribes (extrinsic motivators) not only don't work, but can be counterproductive to the end goal.
Extrinsic vs intrinsic motivation studies – over 70 long term studies have demonstrated that they do not help, and in fact, can be counterproductive.
These studies have shown the following to be true:
When giving a reward, the behavior goes away once the reward goes away
The more we are rewarded for something the more apt we are to lose interest in what we had to do to get the reward in the first place
One study where children who were rewarded for sharing or being helpful, subsequently become less helpful
When given something creative or problem solving, performance is less for those offered a reward, than for those offered no reward.
Focusing on good grades reduces interest in learning itself.
This approach really should start when the children are younger – this might be tougher to do if this family has set up a system where incentives or rewards are the way they have "taught" their children all along
When they are young, we need to be focused on teaching them to listen to and develop their own inner guidance system.
We should be asking our children "what kind of person do I want to be?"  Not "what do I need to do to earn praise/reward from someone else?"
Rewards, punishments, bribes may "work" in the short run, but at a long term cost.
So many of our efforts in schools is to deal with the "problems."  As conscious parents, it is important to realize the vital importance of focusing on the good things around us as much as we can, and to teach our children to do the same.  I can't think of a better way to start 2013 than to focus on the good in our children, and in our schools.
I was so grateful to be on San Diego news 6 this morning talking about the power of kindness, and Kids For Peace's Great Kindness Challenge for schools – happening January 14-18th, 2013.
Currently, there are approximately 200 schools participating in this year's event, from as far away as Switzerland.
If you would like to bring this program to your school this year, it can be as simple as bringing the information and the checklist to your school's principal, and asking them to join in.  While some schools are incorporating a school wide assembly into their week to kick off kindness week, it can be as simple as asking the checklist to be given to each student, and having their teacher announce it to the class.
For more information, to register your school, please visit The Great Kindness Challenge.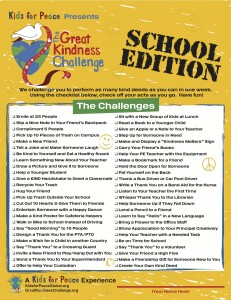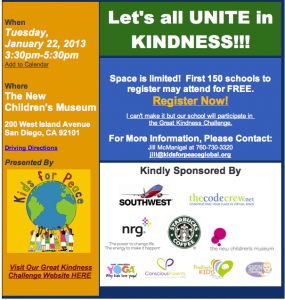 Will you be participating?  Make a difference and let us know!
Having just been on a recent episode of the Ricki Lake show, where the topic was disciplining your children, when I came across this video, I had to share it with all of you.
My primary message about spanking is that parents do it because it "works" often as a short term solution, in that the child becomes more compliant.
However, this happens at a dire cost.
A significant impact on your child's brain development
The resulting physiological effects of spanking actually inhibit growth and immunity
It negates the attachment bond necessary for optimal thriving of a developing human
Up through age 6, children imprint onto their subconscious mind, what they OBSERVE and EXPERIENCE, which is why so many parents who were spanked, do so with their children – the cycle of violence is perpetuated.
"Optimal thriving" includes things such as balanced emotional health, physical well-being, a positive outlook on life, and social skills (to name just a few).

Thanks to www.stopspanking.org for this amazing video.
What do you think is one of the main reasons parents still use spanking as a form of discipline?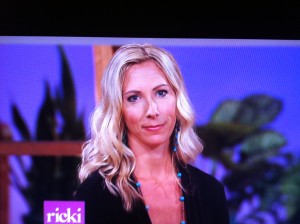 On Tuesday, I had the wonderful opportunity to be a guest on the Ricki Lake show, where the topic was disciplining your children.
No matter what your stance is on public shaming, or spanking, this episode was a DEFINITE conversation starter.
I had the privilege also of being part of a live video streaming discussion that evening along with Dr. Harvey Karp, author of the The Happiest Baby on the Block
(which saved me when my daughter was a newborn).
During the live discussion, there were thousands of people commenting and asking questions, as this topic in particular was very engaging.
Video streaming by Ustream
What would you have wanted to say, or ask, during this conversation?
Am so excited to celebrate my absolute favorite holiday tomorrow….wishing it was longer than one day – instead of the gateway to the holiday frenzy.
Gratitude is the most powerful, incredible, force in life. We should pay attention to it far more often than once a year.
I am so grateful, for all of my dear friends, old and new, those here for a short while and those who are loyal….all have significant value in my life.
Grateful to live where I can see the ocean every day of my life, sunsets every evening, and see the whales migrate by.
Grateful for the challenges I've faced, some excruciatingly difficult, as they have shaped me into who I am today – and without them, I would not have the appreciation for the blessings that surround me.
Grateful my family had incredible courage and escaped tyranny and hardship to bring our family to this amazing country, and hopeful we can get it back to its intended glory.
Grateful for my parents, and brother, who have always supported me and loved me, who have been my greatest teachers in this journey.
Grateful to be able to share my heart with those who care to listen…..in my work with parents who allow me the opportunity to help their families. Eternal gratitude to you for the gift you give me every day.
Grateful my incredible little girl – who teaches me every day – and is the greatest gift I have ever received. I am honored to share my journey with her. Words cannot say or express the depth of this emotion.  I get overwhelmed when I allow myself to truly feel it.
What are you grateful for?
As I have gotten older, Thanksgiving has surpassed Christmas as my all time favorite holiday.  The concept of gratitude, and being thankful, is far more important to me, than all the hustle and bustle and commercialism that seems to have taken over all the other holidays.
The concept of gratitude deserves far more than just one day.
While I'm a little late to the game on this, I would love to declare the entire month of November ConsciousParents.org Gratitude Month!
Because it is one of the foundational principles, if not THE most important principle, that is at the core of what I teach in my workshops, to my clients, and when I am invited to speak about conscious parenting.
I am going to dedicate all of this month's efforts to gratitude.
Living it, talking about it, teaching it, sharing it.
Wanna join me?
In the past, I have invited people to participate in a "7 day gratitude challenge."  Though I don't like the word "challenge" so I call it a "7 day gratitude journey."
The results of this are astounding.
But you need to try it for yourself.
So what I'm going to do here is for the rest of the month of November, I'll be sharing ideas, exercises, thoughts, around gratitude.  So I guess that makes it a 23 day, not a 7 day, gratitude journey.
As part of this exercise, I want to hear from you.
Our community needs to hear from you.
And most of all, your soul is eager for your participation in this journey.
(It knows what awaits you on the other side).  J
At a time where many people are recovering from a challenging political environment which divided many, people are in need of some inspiration.
I hope that you will join us in this journey, and I can't wait to hear what you are noticing in your life, as a result of this singular focus.
Are you in?  If you are, share one thing that you are grateful for right now.
This morning, I was interviewed on San Diego's channel 6 news about disaster preparedness food strategies.
Here are some of the main strategies:
Plan for enough food and water to last a week
Realize you may or may not be in your home, so you need to think about portability
Remember baby formula
Keep these things in one place so they are easily accessible
Use a Food Saver vacuum sealer to help these foods last longer in storage
Water tips:
Store some bottled water
Get a portable water filter
Plan for about 2 gallons per day per person, for a week
Storable foods tips:
Keep some canned items – organic beans are great for protein, but these are heavy and not portable
Dry goods that don't require cooking
Best foods to store – most nutrition and are multi-purpose:
Most nutrient dense for the most portability.  Need to eat less to get good nutrition from these foods than eating processed and non nutritious foods.
Chia seeds – these are high in omega 3 essential fatty acids, can be eaten raw, or sprouted
Coconut oil – high in healthy fats to use fat as a source of energy instead of muscle (which in food shortages our bodies first use lean muscle tissue as a source of energy ), and can also be used for first aid as it is anti-pathenogenic (anti-bacterial, anti-fungal and antiviral
Sardines – high in Omega 3 EFA's, protein
Quinoa – complete protein, takes only 15 mins to cook, can also be sprouted
Raw honey – high in minerals, good sugars for energy, enzymes, and can be used for first aid
Sea salt – high mineral concentration
Raw nuts – healthy fats, minerals and protein, very satiating
Other foods that can also be helpful:
Superfood powder (i.e. Nanogreens)
Real fruit leathers
Other good items to help with food preparation:
Camping stove with propane (for backpacking) light and portable, about $40
Hand can opener for canned goods
One of the skills essential to conscious parenting is learning to tune in to your intuitive guidance system ( or otherwise known as mother's intuition, your sixth sense, your gut instinct, etc.).  And by learning (or should I say honing) that skill, we can better help our children learn to follow theirs.
The last many years of my life, I've been slowly unearthing my intuitive side, and realizing that some of my regular experiences are not common to everyone.
Things that seem obvious to me are not that way to others, and I've really begun to a) realize that and b) trust the intuitive hits I get more and more.  Later, I find that what I thought was just a thought, or a feeling, was actually intuitive guidance that turns out to be right on.  This happens when working with clients, or when parenting, or observing human dynamics.  I've had years of practice where I have gotten to know my intuition on a much more intentional, and personal level.
Recently, I have been struggling with a particular situation in my life, which has tested me to the ends of my limits of emotional strength and resiliency.  It has to do with my daughter, and a circumstance around her that affects her profoundly, but yet there is nothing I can do personally to change those circumstances.
It's been the ultimate test of not being able to control something that is quite toxic to my child, and feeling like I should be able to fix it, but ultimately it's not up to me to fix.
On a scale of 1 to 10 (1 being a minor annoyance that is mildly upsetting to your child and not huge on the scale of trying challenges, to a 10 being emotionally and spiritually debilitating to your child, resulting in change of behavior and a crying out for help) I'd put this one at a 9.8.
Given this, for the first time in almost 2 years, I felt a desire to connect with another person's interpretation of the situation.  The not knowing the outcome was what was causing me the most angst, and the constant back and forth for almost 7 months between thinking the situation was resolved, only to see it resurrect again.  I was feeling like I had fought and endured a war, which ultimately ended with the outcome I had hoped, only to realize the war was still on and weary from the battle, I had to charge onward.  This happened several times in the last 7 months, and it has been taking a toll on me.
Ultimately (and most importantly) this situation is most affecting my daughter, and her well-being is becoming the carnage of this circumstance that is out of both of our hands.
Seven months of being there for her as she's sobbing sharing with me how she feels, and how this situation is affecting her.
Seven months of being the one who is asked direct questions that are not easy to answer truthfully, without making my daughter feel even more confused as to why she's even in this circumstance.
Seven months of openly communicating with the one person who CAN change the situation, pleading and sharing what's happening, only to have nothing change.
Seven months of being in this awkward place of wanting to be there to support her, and answer her questions truthfully, but knowing she might not be ready to hear the truth.  It is painful, confusing, and while the solution seems fairly simple, it's just not changing.
It makes no sense to me as an adult, so how do I explain it to her?
I had recently come to the place of realizing I was resisting against a circumstance that I felt that logically my daughter should not be in – and the one person who can get her out of it (not me), refuses to do so.  Or in fairness, is in a place where they are not willing, or able, to admit how deeply this is affecting my daughter.  Because I cannot make this person do something to get my daughter out of this circumstance (even though this person cares deeply for my daughter also), I am helpless to change it.
It was from this place that I chose to visit with an intuitive counselor, to see if there was some insight, or guidance, that might help me navigate this challenging circumstance. I'm not one of those people who automatically follows what an intuitive counselor advises, I like to listen to what they have to say, and then use my own internal guidance system to take what information resonates with me, and then leave the rest (as no person is 100% accurate with readings, and anyone who thinks that does not truly understand the intuitive process).  I view it as an opportunity to gather information and insights, and to consider new possibilities that perhaps I'm not seeing as I'm too close to the situation.
Two weeks ago, I phoned a person I had seen a couple of times about 2 years ago, who was a wonderful intuitive.  Unfortunately, the bookstore where she did readings had closed down, so I had no way of finding where she was.
Magically, through some colleagues of mine, I found myself with an opportunity to have a reading done by a spiritual counselor named Shawna, who has more than 22 years of experience.  Needless to say, I agreed enthusiastically.  (I always am so grateful when things manifest like that in my life.)
A big part of me wished that I would hear in my session that my intuition about this major challenge was really not intuition at all, but just fear, or judgment, talking.
It wouldn't be the first time, and while I strive to not let that happen in my life, I was secretly hoping I had somehow fallen off that wagon in this circumstance.  I was hoping I could blame it on mama bear rearing her instinctive head.
Instead, sadly, I learned that the situation is exactly as I thought.
Throughout my phone session, I received validation from Shawna that my intuition was uncannily correct, despite my almost desperate hopes that it wasn't.
I left our session feeling pretty sad.  While I was extremely grateful to have had the opportunity to have this reading, and realizing that I did indeed, have strong accurate intuition on the situation, in the end, I did feel disappointed that I was right.  Only because I hoped it wasn't true.
But that is one of the blessings of a reading with a person with a true intuitive gift, with integrity and the intention of helping people in the highest good for all – is that you don't always hear what you want to hear.
Despite my sadness and resolution, the session was a very positive experience, and Shawna is an incredible intuitive.  (She shared other insights about other areas of my life with me as well, which were all very interesting.)
Even before the session, one of the reasons I even wanted a session was just to KNOW, once and for all, and not be stuck in this limbo purgatory I felt I had been in for the last 7 months since this situation all started.
I realized going into the session that one possible outcome would be insight that was uncomfortable to hear.  Yet I still hoped that I would be told I was wrong about the situation, and that things are going to turn out just wonderfully and I was worrying about nothing.
The reason I have sleepless nights is because my intuition about the situation, and the intricacies of it, was completely validated through my session with Shawna.
The most amazing gift from this reading was the knowing deep down that my internal guidance system is pretty darn accurate.   Most of the time I get by on my own, but that it is nice to speak to someone to validate what you are feeling.
It's a reminder that we all have this ability to hear, if we are really willing to listen.  Listening takes practice, patience, and trust.  And discernment.
Now I plan to spend my energy on being the best parent I can be given the circumstance, and know that is all I can do.  Until this session, I think I was holding out hope that this "problem" would go away, and I'd be able to bumble along happily knowing that my daughter would be far better off when it did.  However, accepting that apparently this circumstance is very likely not going to change any time soon, I can at least work from that paradigm.
Have you ever faced a situation where you feel helpless because you can't change the situation that is hurting your child?  Please share….
To learn more about Shawna, and find out about having your own reading, visit www.divineknowing.com. 
Disclaimer:  I received an intuitive phone session with Shawna for no charge, in exchange for my sharing my honest experience.  The above post was in no way affected by this exchange, it is my unbiased, honest insights into my experience.