Carlsbad Conscious Parent Birthday party is a success!
Yesterday I attended a ConsciousParents.org birthday party where we helped the parents add some ConsciousParents.org touches to the celebration.   It was a beautiful 80 degree day in southern California and the party was held at a local park.  There was a playground and the parents had rented out one of the picnic areas for home base.
Here is what one mom had to say:
Let me run down some of the ConsciousParents.org suggestions that this party had:
Organic hot dogs for the children
Organic mixed green salad with homemade vinaigrette
Organic salsa, tortilla chips
Organic ketchup and mustard
Healthy Kids juices (organic juice diluted with water so only 9 grams of sugar per juice compared to 21 of a standard juice box) and plenty of waters
The birthday girl's mom made the angel food cupcakes for the activity and the dessert for the children (children decorated their own cupcakes and then had that as their cake)
Mom had made approximately 80% of the food that was served
Angel food cake with organic homemade whipped cream, topped with organic strawberries for the adults (and many of the children came up and wanted the strawberries instead of the cake!)
Party favors were large Halloween bubble wands – these were a huge hit!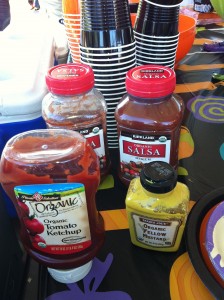 We are so grateful to this family for embracing this idea and executing it so beautifully!  It was wonderful to see many of the suggestions put into action, and everyone had a great time.  Thanks for being part of our community!